BICYCLE EMPOWERMENT CENTRE
A SELF-SUSTAINING SPORTS, WORK & LIFESTYLE HUB. CREATING A HOLISTIC AND MOTIVATIONAL ENVIRONMENT, OFFERING A WELCOMED DISTRACTION FROM THE CHALLENGES OF TOWNSHIP LIFE.
OUR HOME BASE
THE BICYCLE
EMPOWERMENT
CENTRE (BEC)
Our program is not just about a "once-off" meeting and transferral of skills, but it aims to become a self sustaining program with lasting effects that can be carried though into participant's lives and the community. We are based in Tsumeb, Namibia, in the old mine complex and we wanted to create a centralized place, where all our various Programs and Outreach Projects can operate from. The Facility, an old fire station, is an easy, close, safe and accessible venue for our target groups with the benefit of the surrounding supporting features, such as the existing Bicycle Empowerment centre (BEC) , storage areas, close proximity to mountain trails and the BMX Track & cycle safe area. With all programs being centralized to one area, this allows for better supervision and management.
Our Bicycle Empowerment Centre (BEC), is a buzz of activity, with bicycles services, Bicycle and Parts sales & maintenance as well as Donations and Outreach projects. We have implemented training, systems and strict control measures to ensure things are done efficiently and honestly. Each bicycle is serviced and washed, thereafter tagged, recorded in a book, and invoiced after sale/donation. We have 3 resident mechanics, who all earn their own income servicing stock and client's bicycles from the community. We have also started a parts shop to support the mechanics shop and to attract more customers and revenue. All income gets plowed back into salaries, development & outreach work (such as building homes, creches, school fees, medical bills etc). We personally manage & supervise all activities on a daily basis.
Job creation initiatives...
"Give a man a fish and you feed him for a day; 
teach a man how to fish and you feed him for a lifetime"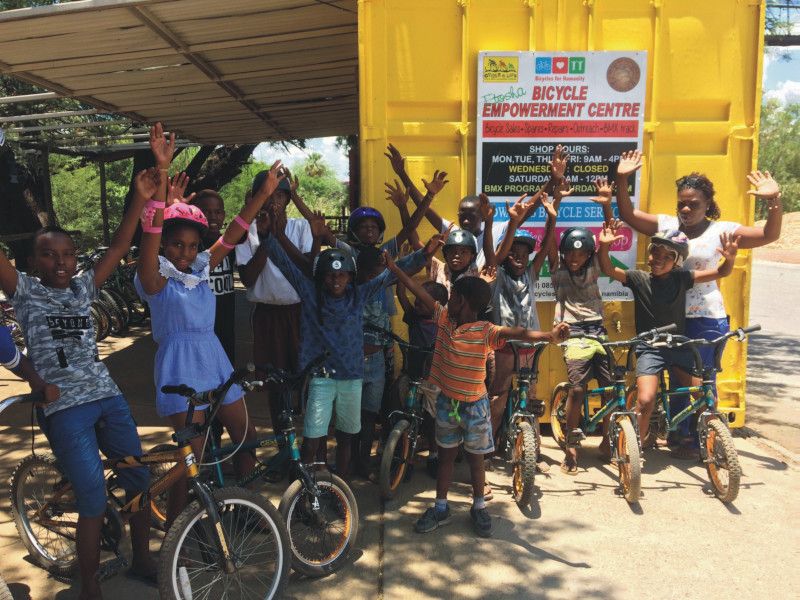 The Team is also encouraged to take ownership of the project and to use their own initiative in developing further income opportunities, based at our venue, such as a sweet shop, the selling of plastics, hair salon etc. Many youth and unemployed will often come and earn a little extra income helping around with odd jobs at the centre.